the products


* colors & patterns may vary and products are subject to change
▬the goody bags
Every mom
will receive a goody bag. Moms with
VIP
tickets will receive all items in a regular gift bag plus additional items
designated in orange
and marked by
.

| | |
| --- | --- |
| | The innovative MAM Sports Cup makes for easy, spill-free drinking on the go. The cup opens automatically for drinking and does not have to be opened by hand. A patented valve system ensures that the cup remains leak-proof but is always ready for drinking. This BPA-free cup also features a leak-proof cap that help keep bottles clean when not in use. Anti-slip design is easy to hold. Perfect for little hands! >Learn More |
| | Hoping to get organized for the new year? Mabel's Labels has you covered with the new Kitchen and Pantry Labels. These super-durable labels are dishwasher and microwave safe. >Learn More |
| | The Piyo Piyo Tongue Brush helps you keep your baby's mouth clean and fresh. Use this gentle little brush to clean your baby's tongue, and establish a good oral hygiene routine. The tongue brush has been specially designed to clean without hurting the tongue's surface. The tongue brush is made of BPA-free materials. >Learn More |
| | Dry winter skin? Hempz Triple Moisture Herbal Whipped Creme Body Wash is enriched with 100% Pure Natural Hemp Seed Oil and fortified with an exclusive all day Triple Moisture Complex of hydrating Yangu Oil, Vitamin rich anti-aging Apple Fruit Extract and Potassium rich Cogon Grass Extract. This Signature Triple Moisture Herbal Whipped Creme Body Wash provides 24-hours of moisture that cleanses and softens even the driest skin. >Learn More |
| | Funny how small spaces can sometimes have a huge odor. Kind of funny, not so funny, huh? The Fresh Wave Odor-Removing Packs are great for those situations like car interiors, gym bags, shoes, closets, boats, campers, bagless vacuums, trash cans and that oh-so-powerful diaper pail—just to name a few. Toss them in and toss those odors out. And when you only need one or two packs to do the job, just reseal the bag to keep the other packs smelling freshtastic. Boom! Future odor problem solved. >Learn More |

▬
the raffle

Every mom will take home a "best & hottest" product (get the details on how moms will choose):
*** colors & patterns may vary and products are subject to change

Getting around town with baby is a breeze with the Peg Perego Booklet with Primo Viaggio 4/35 Infant Car Seat
. Comfortable for baby and easy to handle, Booklet is the perfect stroller for all outings, providing effortless steering and mobility through narrow store aisles or crowded sidewalks. When it's time to be put away, the Booklet folds compactly and can be stowed almost anywhere. The Primo Viaggio 4-35 infant car seat attaches to the Booklet without any adapters needed. Weighing just 8.8 lbs. and including a revolutionary new base with the Right Tight System, the Peg Perego Primo Viaggio 4-35 Infant Car Seat is ultra-lightweight, innovative, and simple to move in and out of your vehicle. >Learn More
Serene styling with a contemporary flair. With its winding streets and scenic canals, Treviso [tre'vi:zo] is a lovely little gem of a town that sits just outside of Venice. A stroll through the city's ancient walls and outdoor cafes reveals a charm all its own. This delightful town is the inspiration for the Pali Designs Treviso Forever Crib
. Able to convert to a toddler bed, then to a day bed, and finally to a full bed headboard and footboard, this crib makes good on not making you need to purchase a new bed at each stage of your child's development. >Learn More
The Naturepedic No-Compromise Lightweight Organic Cotton Ultra 2-Stage
crib & toddler mattress matches the strength and durability of an innerspring without the added weight. Layers of luxurious organic cotton batting create the perfect balance of firmness and comfort. Features a premium organic cotton fabric for added durability and a more luxurious finish. Get the best of both worlds, firm and comfortable for baby and toddler with long lasting durability and easy crib changing for mom. At its core, this mattress is built with Naturepedic's exclusive patent pending wave support plus technology, offering additional waves for more points of support. >Learn More
Lightweight, maneuverable and super easy to fold, the Britax B-Agile 3 Stroller
is the ultimate stroller to navigate modern life. The one-hand quick fold design makes stowing or going easier than ever and the 3-wheel configuration with swiveling front wheels turns on a dime allowing you to negotiate the tightest of situations. The 5-point quick-adjust harness and our infinite recline feature mean you can keep your child comfortable and on the move from infancy well into the toddling years. The B-Agile also features an extra large canopy to protect your child from light rain or too much sun and weighs just 16.5 pounds making it easy to carry from one adventure to the next. >Learn More
Convenient, comfortable, and designed for superior safety, the Britax Boulevard ClickTight Convertible Car Seat
is an exceptional choice for getting for getting your family where they need to go. With the revolutionary ClickTight installation system, everyone can install the car seat securely and confidently by just buckling the seat belt. It features complete side impact protection plus provides an advanced layer of protection with a deep protective shell and an energy-absorbing foam headrest designed to keep your child's head and neck extra secure. Includes the quick-adjust, 14-position harness that grows taller with your child at the push of a button, as well as the click and safe snug harness indicator to take the guesswork out of adjusting the harness to the proper tightness. The 2-position buckle gives your child room to grow and plush foam padding provides premium comfort at every touch point. There are even 7 recline positions with an automatic level indicator. >Learn More
The BOB B-SAFE 35 Infant Car Seat
by Britax combines unmatched protection with distinctive BOB style. This car seat comes with Britax-exclusive SafeCell Impact Protection, a world-class system of safety components, including a steel frame for all-out strength and a base that compresses to absorb energy during a collision. It also has top side impact protection for your baby with a deep shell lined with energy-absorbing foam to shield your little one from side collisions. The contoured shell also minimizes side-to-side movement to maximize protection and the space-efficient design takes up less room in your car. Safely install the BOB B-Safe 35's base using the center-pull straps and quick lower anchors and just press a button to detach. >Learn More
.
The JOOVY Wood Nook Highchair
is an attractive wooden highchair with convenience and sustainability in mind. This practical highchair is easy to clean and has an incredibly compact fold. Manufactured with 100% Monterey Pine, a friendly, fast growing and medium/dense wood, the highchair is ideal for parents interested in natural and sustainable products. The Wood Nook has been triple coated with a high gloss finish for easy wipe-downs. The adjustable tray has a removable cover that can be easily popped off and rinsed after a messy meal (it's dishwasher safe too).With a capacity of 50 pounds, this stylish chair will be your toddler's best friend at mealtime. The Wood Nook folds for quick and convenient storage while the built-in carry handle on the chair's back adds to its portability. >Learn More
The JOOVY Moon Room Playard
is out of this world. What child wouldn't like playing in a playard as unique as the moon room? With plenty of play space and awesome views, your child's imagination will run wild. Parent's minds will rest easy knowing their child is in a secure space. The moon room is also a true playard, as it folds up for storage and travel. It even has its own carry bag. Like all of JOOVY's innovative playards, the moon room is incredibly durable and is made of the highest quality materials such as: super strong mesh and 600D nylon fabric. And you will love the machine washable 100% cotton fitted sheet that's included (additional sheets sold separately). This high flyer playard will keep your child's imagination and dreams on a mission to the moon and beyond. >Learn More
Introducing the new the Chicco
KeyFit 30 Zip Air Infant Car Seat. Featuring ReclineSure spring-loaded leveling foot, RideRight bubble level-indicators on each side of the base and SuperCinch one-pull LATCH Tightener to help achieve a tight and secure fit in your car. An enclosed underside helps protect car seats from damage. New 3D AirMesh Technical Performance Fabric with airflow channels give a comfortable ride. Including features like a quick remove seat pad for easy machine washing. Lined with energy-absorbing foam, the KeyFit 30 Zip Air is equipped with a five-point harness that can quickly and easily be tightened for an accurate fit using the one-pull harness adjustment. Included for smaller babies from 4 to 11 lbs, the ergonomic infant insert provides extra support. >Learn More
The Chicco Bravo LE Stroller
is a new, premium stroller platform with a one-hand quick fold and 3 modes of use: lightweight infant carrier, travel system and full feature toddler stroller. It comes loaded with premium features to make strolling comfortable for baby and convenient for you! A removable, reversible seat insert, child's tray with cup holders, and a premium parent tray with zip enclosure, are just a few of the details that take this stroller to the next level. >Learn More
The timi & leslie Rachel 7-Piece Diaper Bag
is as scrumptious as a cupcake. It's made from easy to clean faux leather (PVC free) and features custom hardware in an antique brass finish. Features: a cross body, adjustable detachable strap so you can wear it hands free whenever you need to; specially designed changing pad with a front mesh pocket where you can store your diapers, wipes and creams when you need to make a quick diaper change trip; a stylish clutch that you can use as your purse (who wants to carry a purse and a baby bag?) with interior credit card slots and an inside zipper pocket; an insulated bottle tote to keep your baby's bottles warm or cool; matching stroller straps so you can hang your diaper bag from your stroller; zippered clothes sac to keep your wet or dirty clothes contained; water resistant, light colored lining so you can easily see everything in your bag; five exterior pockets; six interior organizational pockets; inside key fob – never lose your keys. >Learn More
Be fabulous with the ultra-sophisticated timi and leslie Madison 7-piece Diaper Bag
. Each Madison comes with the fashionable and functional accessories listed for the Rachel bag, above, so you never have to sacrifice style for function. >Learn More
The stunning timi & leslie Charlie 7-Piece Diaper Bag
is a water-resistant faux leather chic diaper bag topped by dual handles and equipped with an optional, adjustable shoulder strap for comfortable carrying options. An included changing pad, zippered sac for soiled clothes and an array of pockets help prepare you and your little one for anything that might happen on the go. >Learn More
The Combi Shuttle Infant Car Seat
is lightweight, travel-friendly, and engineered for safety. It is equipped with 360 degrees of protection, the Combi Tru-Safe Side Impact Protection and Anti-Rebound Bar shield your child in front, rear, and side impact collisions. An adjustable head restraint with deep side walls and a layer of energy-absorbing foam distributes crash forces away from your infant's head, neck, and spine. The anti-rebound bar stabilizes the infant seat by minimizing rotational forces in front and rear collisions. An easy-to-remove and washable cover, harness, pads, and a large canopy keep children comfortable and safe throughout their first year of life. Premium push-button latch connectors, a built-in lock-off and an ergonomically-designed carry handle make the seat easy to install and transport. >Learn More
Love at first sight! Introducing our new diamond quilt TWELVELittle Companion Backpack Diaperbag
. We could not get enough of this "diaper bag" when we first saw it in October, and are excited to share it with you now! Made with soft and lightweight water resistant nylon, the Companion Backpack is a must-have for moms who seek fashion forward style and maximum comfort. The spacious main compartment allows room for all baby essentials, and with multiple exterior and interior pockets, organization is simply effortless. >Learn More
The new JOOVY Balloon Stroller
is eye-catching! It weighs only 12 pounds and has all the right features. With its 160 degree seat recline, a newborn can be carried in the bassinet-like seat. Your baby will sleep comfortably under the UPF 50 canopy which covers the entire seat. Is baby sleeping in the car seat? No need to disturb their sleep - the Balloon includes a universal car seat adapter allowing you to take the car seat directly from the car onto the stroller. Mobility is made easy with the reversible handle and swivel wheels. The Balloon's light weight and one-hand standing fold make it a breeze to take it in and out of your car. >Learn More
Your little one won't miss a beat with 4 fun, grow-with-me ways to play with the Fisher-Price 4-in-1 Step 'n Play Piano
. Remove the soft keyboard mat for tummy time or lay & play. Baby can go for a spin (360 degrees!) in the entertainer for all-around play. Sliding seat encourages first steps as baby "walks" back & forth on the keyboard. Remove the seat so toddlers can jam! Even the music grows with baby. Choose short play, long play or baby makes the music. When baby's ready, there are 3 sung songs to encourage early learning. >Learn More
The Ju-Ju-Be Be Prepared Diaper Bag
is a smart bag with innovative designs and spacious compartments. Keep yourself ultra-organized with (17) friendly pockets that make it easy to tote along all your daily essentials. The lining is protected with an Agion natural antimicrobial treatment that inhibits and reduces the growth of odor-causing bacteria, mold and mildew. The outer fabric is treated with Teflon fabric protector, making it easy to repel stains and keep it clean. The "mommy" pocket is large enough for smartphones, wallets, keys and more. Inside are (4) pockets with a sunglass holder and a key fob stretch cord. The main zipper pocket is large enough for diapers, wipes, extra clothesand also includes (7) smaller pockets with (2) sets of colored tabs to help distinguish different items. The back pocket is designed with crumb drains to keep this area clean and includes a super cushy memory foam changing pad. Bottle pockets with magnetic closure flaps are located on either side of the bag and insulated to keep items hot or cold. This bag is machine washable! >Learn More
The Lansinoh Signature Pro Double Electric Breast Pump
provides advanced technology at an affordable price. The Signature Pro is the ONLY pump with three pumping styles and eight adjustable suction levels, allowing you to select the setting that works best for you. A closed-system design reduces the number of parts cleaned and prevents bacteria and mold growth. And its compact size and quiet motor make it convenient for the mom on-the-go. >Learn More
The Babymoov Swoon Up
bouncer has 2 heights for 2 modes: interaction position (the baby wakes up and takes part in the family's life) and relax position (the baby is reassured and calmed). It is ultra compact with a simple and unique folding system. The backrest (3 positions) and the seat (2 positions) can be adjusted independently with only one hand! It is ultra comfortable with a newborn cushion and very secure with a 5-point safety harness. The bouncer has a removable toy bar with 3 positions, 360° rotation and natural rocking movement. >Learn More
Introducing the new Crane smartDROP Ultrasonic Cool Mist Humidifier
. Just in time for flu and cold season, this Wi-Fi Connected Humidifier can be controlled from anywhere with the free Crane App in the App Store and Google Play. It has a touch Sensor LCD Display with Humidistat, Humidity Control Settings, Variable Mist Output, and Timer. >Learn More
The Oribel PortaPlay Convertible Activity Center
entertains baby with bounces and delightful learning toys. PortaPlay also folds flat for maximum portability and minimum storage space. Converts easily to a Play Table and more for a product that always surprises. Age Suitability: Activity Center - 5 to 12 months Play Table - Up to 5 years old. >Learn More
Your children will have hours of fun expressing their creative side while learning and enriching their minds. The Little Partners Deluxe Art Easel
is a sturdy two-sided A Frame Easel with a large magnetic dry erase white board on one side and chalk board on the other side. Two wide shelves offer storage below, and the paper holder and feeder have easy refill capability. Four Large paper clip grips can hold craft paper giving your artist additional options for drawing and painting activities, and two side paper clip grips for hanging freshly painted artwork to dry. Deep trays and pencil ledges keep paint, brushes, markers, chalk and erasers within easy reach. >Learn More
The Vilah Bloom Harbor Side Tote reinvents the popular coined phrase "fashion meets function". This do-it-all tote is stylish, over-sized and features our built-in dispensing wipe system. Carry this bag from pre to post baby. With 3 carrying options, 11 spacious pockets and easy one handed access to wipes; toting tot and essentials was never this easy or chic! >Learn More
Kids can learn science and math with our bundle of entertaining and exciting games for all ages, from The Young Scientists Club
. Learn all about the different fields of sciences and be the first player to explode the volcano with Science Explosion Board Game
. Math Explosion
is a fascinating game that allows players to customize math facts with a math fact creator so that players of all ages can play for many years to come. Animal Tracks
is three traditional games in one: match the animals to their tracks while playing concentration, bingo, and guess the tracks games. The goal of the exciting Sci-ology Game
game is to collect the most quartets (groups of four) by using memory and strategy skills. Learning has never been so fun! >Learn More
The Newlie Gail Satchel Diaper Bag
was designed to be convertible for moms to adjust it to exactly how they need it. With a new center divider pocket, the Gail Satchel has more organized space for moms to fit items for baby, toddler, kids, teens, and herself. Made from faux leather and antique brass hardware, the Gail Satchel exudes tight, modern style while not sacrificing function. Features: Made from faux leather and antique brass hardware, water resistant lining in a light taupe color, one exterior pocket, matching cross body strap to wear bag hands free, seven interior pockets including signature zipper pocket, matching changing pad. >Learn More
Introducing Drivers Little Helper
, an infant and child safety product that works like a baby monitor and connects to your phone to help your child stay safe in the car. The car seat monitor pad measures pressure, temperature and movement, and will send you alerts through a free app on your phone. You can monitor your child's comfort, get a warning if your child leaves the car seat and make sure everyone is safely out of the car when you get where you're going. The Driver's Little Helper monitor fits any car seat and is approved for babies and children of any weight, so it's easy to drive with confidence knowing your child is protected. >Learn More
We have bundled our favorite Love To Dream
products to get baby through the early years in comfort: Swaddle Up Original
is a unique baby swaddle solution allows you to swaddle with arms up, allowing your baby to self-soothe. This helps your baby to quickly settle & establish an easy & peaceful sleep routine. Swaddle Up 50/50
is an innovative baby wrap solution allows you to transition your baby from being snuggly swaddled towards the independence of the arms-free Inventa Sleep Bag
. We added the Beanie
and Snugbud Soother Blanket
. >Learn More
Designed with love, pediped footwear
combines comfort and fashion into a shoe that is pediatrician recommended. Their construction enables babies to sense the ground beneath their feet as they learn how to walk, and to develop foot strength as they grasp with their little toes. pediped footwear is the 'next best thing to bare feet'. One MetroMom may choose a $100 gift certificate to pediped.com. >Learn More
Clip the Snuza Go! Baby Monitor
onto the waistband of your baby's diaper and switch on. Snuza Go! will detect your baby's every movement and will alert you if your baby's movements are very weak or fall to less than 8 movements per minute. If no movement is detected for a period of 20 seconds or less, an alarm will sound to alert you. >Learn More
The Britax Car Seat Travel Cart
is a convenient alternative when traveling through airports with your car seat and child in tow. Car seats attach effortlessly using the car seat latch connectors, the same connectors that secure your car seat tightly to your vehicle. When storing the Britax car seat travel cart, its compact fold allows it to fit into small spaces, including most airplane overhead compartments. With its durable steel frame design and easy-glide wheels, the Britax car seat travel cart can be used with children harnessed in car seats for short travel distances. The raised platform protects the car seat from contacting the ground, while the one-hand telescoping handle adjusts to fit any height caregiver. The Britax car seat travel cart accommodates all Britax convertibles and harnessed booster seats, and most other brands. No assembly required. >Learn More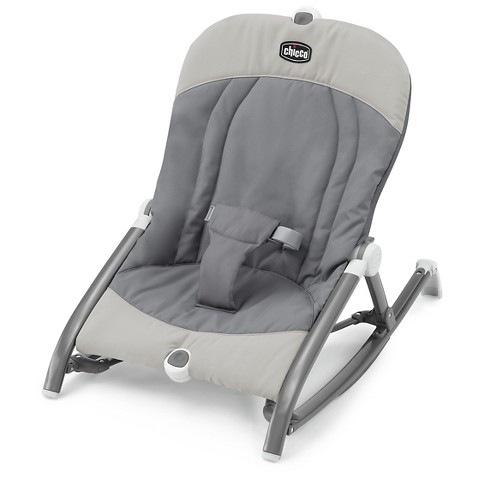 The Chicco
Pocket Relax is an ultra-compact portable rocker that offers a comfortable seat where babies can be soothed and entertained by gentle rocking motion. It can be set up anywhere and is the perfect travel companion: it sets up in seconds and folds down into an ultra-compact shape that easily slips into the convenient color-matched carry bag which is provided with each unit. This unique rocker features an adjustable three-point harness, three recline positions, and built-in kickstands for stationary use. The pad is easily removed for washing. Pocket Relax accommodates babies from birth to 20 lbs. >Learn More
The Chicco NaturalFit 3-in-1 Modular Sterilizer
quickly and naturally sanitizes bottles, pacifiers, teethers, toys, and more. With the power of steam, the 3-in-1 Sterilizer kills 99.9% of harmful household germs. The sterilizer has three possible configurations for different sized loads: convenient full-size mode, efficient compact mode, and quick microwave mode. Sanitize up to six bottles including nipples, cap rings and lids when the sterilizer is in full-size mode. Efficiently sterilize bottles in compact eco mode, which requires 30% less time and energy. Or use microwave mode for the quickest sanitizing cycle. >Learn More
The KidCo DinePod
is a lightweight portable high chair that provides instant seating indoors and outdoors, at home or away. At just over 5 pounds, the DinePod sets up instantly. The one button release safety belt keeps baby secure while enjoying meals or activities. The simple fold and go design makes this a favorite with parents. Storage/Carry case included. >Learn More
Sure to inspire the sweetest sketches, the Delta Children Disney Frozen Activity Easel with Storage
is designed with a magnetic, dry-erase surface on one side and a chalkboard on the other. Featuring totally cool silhouettes on top of Anna and Elsa, it includes a magnetic character puzzle, alphabet magnets and two fabric bins underneath, so your child can store chalk, markers and all their works of art. >Learn More
The Delta Children PAW Patrol Activity Easel
features a magnetic, dry-erase surface that will showcase all of you child's masterpieces. Topped with colorful images of everyone's favorite canines, it includes alphabet magnets and two fabric bins underneath, so your child can store chalk, markers and all their works of art. >Learn More
The unique shaped Pacific Play Tents Princess Castle Pavilion
is the ultimate princess experience. Big enough for the whole neighborhood, kids can play with all of their toys and stuffed animals, put on a show, play dress up and still have room to dance! Easy to assemble, and easy to clean. Includes carry bag for storage and portability. >Learn More
Your young car enthusiast will love the Pacific Play Tents Driving School Dome Tent
. Your child and his/her friends will zoom around the race tracks or make up their own imaginative games. Perfect for child and toys this tent is ideal for indoor or outdoor play. Tent features a tie back door and includes carry bag for storage and portability. >Learn More
Build & Imagine StoryWalls play-sets are magnetic building sets that inspire storytelling. Kids build a scene with the illustrated magnetic panels and use the dolls and magnetic accessories (clothes, pets, props, and more) to create a story that brings the scene to life. In this Build & Imagine Marine Rescue Center
, kids will guide Thea on her quest to save endangered sea animals, rehabilitate injured dolphins, feed baby seals, and patrol the coast for wounded wildlife. The set features a dolphin pool, sea lion pool. operating room, laboratory, fish kitchen, ship control center, underwater observatory, otter rehab tank, rescue gear, jet ski, outfits, feeding supplies, and lots of marine animals. >Learn More
Woof! Meow! Squawk! In the Build & Imagine Pet Portrait Studio Building Kit
, Anna and Ethan are helping the local shelter pets prepare for adoption day by providing each pet with a special portrait. Build a studio with the illustrated magnetic panels, then dress the pets in crazy outfits and arrange wacky scenes for the dolls to capture with their camera and paintbrushes. Pet Portrait Studio includes Ethan and Anna dress-up dolls, 4 wooden pets, 10 dual-sided building panels, and more than 40 magnetic accessories. It features a painter's studio, photo studio, photo lab, pet lounge, treats, smocks, art supplies, pet costumes, adoption fair, a dozen pets, and more. >Learn More
The JOOVY Foocot Child Cot
is a kid's dream cot. Your child will love knowing where they will nap or sleep while they are away from their own bed. Parents love the flexibility and portability of the Foocot. Setting up the cot in new locations will give your child a secure and early sense of where they will sleep, making bedtime or naptime much easier. It is perfect for travel, special occasions, sleepovers, cruises, hotels, camping and playing. The Foocot has two storage pockets perfect for storing a flashlight, toothbrush, snacks, special toy or favorite book. The Foocot supports a child up to 48" tall or 75 pounds. This very durable children's cot is made of a sturdy steel frame with top grade 600D nylon fabric. It folds ultra small for travel convenience and comes with a travel bag made of the same 600D nylon. >Learn More
The Keekaroo Cafe Booster
is the hot item every parent will want to have. An exclusive design process manufactured in the USA makes this booster seat soft to the touch. Made with a latex free seamless material, cafe boosters are the child booster seats that are guaranteed to be peel resistant and tear resistant. Not only are the baby seats resistant to tears and peels, they are also impermeable to fluids. Your children can sit in the cafe booster, spill food and drinks all day and the mess will remain on the surface. The cafe booster will keep your child sitting comfortably and safely with the skid resistant textured bottom and security straps, making it easy to use on any chair. The 3 point safety belt buckles your child in for a wild dinnertime ride. >Learn More
The new Kidz Gear Bluetooth® Stereo Headphones for Kids
are designed specifically for children. The Kidz Gear Headphones provide safe listening with true freedom from cumbersome wires that kids can easily get tangled in. Available in blue or pink, the headphones deliver a high-quality audio experience and work with all devices that support Bluetooth 4.0, including iPhones, iPads, Kindles, Nooks, Android smartphones and tablets, and computers with a Bluetooth adapter. >Learn More
We have a Green Toys
gift basket for one lucky MetroMom! The Green Toys Block Set
is the world's most environmentally friendly basic building set, with 18 boldly colored, lightweight blocks have been re-engineered for easier grip and better stacking action. The Green Toys Sport Boats Set
are specially designed for little hands making them great toys for the tub, pool, or beach bag. Each boat features brightly colored, interchangeable tops for mix-n-match fun and easy cleaning and a duck captain figure. The Green Toys Mixer
is a cement mixer with a revolving drum, perfect in a sand box, toy box, or gift box. My First Keys
, made from from food-safe, 100% recycled plastic, the lightweight keys are perfect for little ones just learning to reach and grasp. >Learn More
The Modarri Combo Pack
race car set will provide hours of fun for kids. With one finger in the seat, whip the car in tight figure 8s, spin in a circle, drift, do wheelies, and much more! Kids also get to be the auto designer by customizing each car's look. >Learn More
We've put together our own gift set of MAM
products to get you and your baby through the first year! MAM combines technological innovation, medical function and contemporary design to develop superior baby care products that support a baby's development from day one. Since MAM developed its first soother in Vienna in 1976, it has evolved to become a global authority on baby care product design and quality. Today MAM products are used by families in over 50 countries and on five continents. Our gift set, valued at $50, includes products from MAM's baby care range of award-winning pacifiers, bottles, cups, teethers, oral care items and coordinating accessories. >Learn More
NurturMe
provides innovative and sustainable options for busy, modern parents to help ensure their children are getting the nutrition they need to live a yummy life – including the first 100% pure quinoa alternative to traditional rice cereals, dry pouch infant meals that can be mixed with breast milk or formula for added nutrients, and healthy toddler snacks that deliver 1.5 servings of fruit and veggies in each pouch. One Mom at the event may choose a $55 NurturMe Gift Pack. >Learn More
No more messy spills. Just add a straw and you are all set! The new Silikids Siliskin Straw Top
is a universal silicone top that fits over a Siliskin® Glass and most standard size cups. We have a bundle of three sets, and have combined with the Silikids Siliskin Glass Cup Set with Silicone Sleeve
, making the glass easier to hold and grip for little hands. The glass features a patent-pending shock absorption design and is dishwasher safe. >Learn More
Make nap time fun for your child with this adorable Uber Mom Napmat
. The Nap Mat is durable and easy to clean. Perfect for daycare, preschool or kindergarten. We have bundled it with an Uber Mom Wipebox
and Tissuebox
. >Learn More
Looking for a little extra privacy while nursing in public? The Bebe au Lait Nursing Cover
has a patented open neckline that holds the cover away from mom and baby - allowing them to maintain eye contact so they can continue to bond while breastfeeding on the go. The open neckline provides airflow and allows mom to see that baby is properly latched, which is key to breastfeeding success. Secure and adjustable, the neck strap holds the nursing cover in place, giving you privacy and confidence while breastfeeding, wherever you are. This cover comes in Tribeca, a modern and sophisticated petalled floral in black and ivory. >Learn More
Daniel Tiger's Neighborhood Friend Talking Daniel Tiger
is ready for some ugga-mugga snuggles! This cozy, cuddly plush tiger is perfect for hugging, singing, chatting and playing make believe. Press his fuzzy little paw and Daniel Tiger says 14 different things and sings "It's a beautiful day in the neighborhood." We have combined it with the Daniel Tiger's Neighborhood Friends Figures Set
. Playtime is all about big imagination with these pocket-sized pals. Their heads really move and their arms are poseable too, perfect for knighthood, tree-climbing and royal adventures. >Learn More
The Joovy Boob Baby Bottle is the most innovative baby bottle on the market today. You'll love the ease of use, simplicity and functionality of the Boob system including the nipple design, 1-piece, patented CleanFlow Vent System, bottle and insulator. The Joovy Boob PP Baby Bottle Starter Set
has the 13 primary items you'll need to get started bottle-feeding, and we have also bundled with the Joovy Boob Formula Dispenser
, which makes bottle-feeding on the go a cinch providing you with three 8oz, tightly-fitted compartments perfect for storing pre-measured formula. Additionally, a handy spout allows you to pour formula directly into the bottle preventing troublesome spills. This convenient multi-tasker also becomes a fantastic snack cup when your baby outgrows their formula. >Learn More
Add color and whimsy to your nursery with this easy to apply, self-adhesive P'Kolino Removable Wallpaper
. There is need for paste or water. Simply remove its backing and adhere to a smooth, primed and painted surface. Just peel off to remove. It is fun and high-impact decorating for those who do not want to make a long-term commitment to a permanent design or renters who can't. We have bundled a few for one MetroMom. >Learn More
Thames and Kosmos Little Labs Intro To Engineering
welcomes young children to the field of engineering with 25 experiments and building projects in five sections. By engaging in hands-on activities, children will learn how engineers apply their scientific and technical knowledge to design machines and devices. Start by learning some engineering basics with experiments on levers, forces, and pulleys. Move on to explore engineering on land by building vehicles with wheels, such as a race car and a wind-up car. Next, investigate engineering with air (and in the air) by building a helicopter, a pinwheel, a parachute, a glider, a balloon rocket, and an air=powered carousel. Then, build a diving bell, a sailboat, and a paddle boat to experiment with engineering in water. Finally, find engineering in your own home with experiments modeling the telephone and television. >Learn More
Read the amusing story of two inquisitive kids and build simple models of the aircraft they discover on their hilarious family vacation with the Thames and Kosmos Kids First Aircraft Engineer Kit
. Large, colorful plastic building pieces make it easy for small hands to put the models together. The kids start out by building a passenger jet to bring their family to a tropical island. After they arrive, they construct a helicopter to help some scientists studying sea turtles reach a remote island, and then a seaplane to bring them back. As they continue along their trip, they also build a biplane, space shuttle, prop plane, hang glider, supersonic jet, and other airplanes to help their friends out. From each humorous segment of their silly adventure, the kids learn something new and collect a funny souvenir. >Learn More
Learn about the human body by doing experiments with your five senses that show you how your body works with the Thames and Kosmos Kids First The Human Body Kit
. Examine your fingerprints to learn how you are unique. Build a stethoscope and listen to your heartbeat to learn how your heart pumps blood, and listen to your gurgling tummy to learn how your stomach works. Test your lung capacity to learn about how your lungs work. Examine your diet and your digestive functions to learn how your body processes nutrients to give you the energy to do more experiments! Try a blindfolded exercise to find out about hand-eye coordination. Take a tickle test to learn about your skin and sensory receptors. Monitor your pulse to learn about your circulatory system. Follow your nose in a smell memory game to learn about your sense of smell. And so much more! >Learn More
Cloud b Dream Buddies
are compact, ultra-plush pals that help ease children's fear of the dark by projecting a starry night sky onto ceilings and walls. From blue to green to amber, the slowly morphing colors will mesmerize your little ones and lull them into deep, sweet sleep. Dream Buddies are the perfect calming companions that your tiny tots can tote with them wherever they go. We have bundled Dream Buddies Bunny and Dream Buddies Sheep. >Learn More
Can a Teddy Bear Change the world? Bears For Humanity
are no ordinary teddy bears! Made from the highest quality materials as rated by the Global Organic Textile Standards (GOTS) organization, the plush, 100% Certified Organic fabric endures the knock-down, drag-out lifestyle of an energetic child. Best of all, when you buy from Bears For Humanity, the company donates equal quantity and quality plush toys to children in need through their Buy One Give One program in the USA. >Learn More
Fun and functional, with cool thrown in! We have bundled some of our favorite Bbox
items: Travel Bib and Spoon
, Sippy Cup
and Snack Pack
. >Learn More
Think all peanut butter is the same? Pic's Really Good Peanut Butter
, based in sunny Nelson, New Zealand, imports the finest quality Hi-Oleic peanuts from Kingaroy, Australia, roasts, grinds and seals them within hours, ensuring a signature fresh roasted taste. The high quality of the product is due in part to the use of very fresh peanuts. The healthy, full-flavored peanut butter is all natural, gluten-free and made just how peanut butter should be – with no additives and just a touch of Kiwi salt in the salted varieties. Pic's award-winning peanut butter is higher in the good monounsaturated oils and high in antioxidants, dietary fiber and good quality protein. Before using, just give it a quick stir and enjoy Pic's straight from the jar by the spoonful with your favorite jelly or in your favorite recipe. We have a bundle of hard-to-find 4 jars for one MetroMom. >Learn More
Kalencom's Mr. Petey Potette 2-in-1 Potty Training Kit
is everything your child needs to use the potty with confidence. The award winning 2-in-1 Potette Plus Potty Seat can be used over any standard sized toilet bowl or as a standalone training potty. It's perfect for potty training at home or on the go, and our bio degradable absorbent leak tested liners guarantee there's no spills or mess regardless of the situation. This set comes with a hard cover magical adventure book and a Mr. Petey Potette Training Companion, which are the perfect items to change the way your child learns to use the potty. The hardcover book provides children with a reassuring tale that makes potty time fun, and the Mr. Petey Potette Training Companion stays by your child's side to give them confidence, in and out of the bathroom. We are bundling with Potette Plus Liners
>Learn More
---
| | |
| --- | --- |
| | |
| | |
| --- | --- |
| Who: | Moms who are expecting and/or have children up to age 6 |
| What: | Pre-set buffet, laughter and opportunities to view the Best & Hottest products from pregnancy through preschool, meet and mingle with other moms/expectant moms and take home a Best & Hottest Product of your choice (plus gift bag) |
| When: | Thursday, January 28, 2016 from 6:30-9pm; VIP entry at 6pm |
| Where: | The Dream Cafe, 5100 Beltline Road, Southeast corner of Beltline and Dallas Tollway, Addison, TX 75240 |
| How: | Moms will draw numbers at the event to determine the order in which they each will choose one Best & Hottest product. VIP reserved priority seating is available, and VIP ticketholders will draw numbers first. Every mom also receives a gift bag. Moms with VIP tickets will receive extra items marked with . |
| Cost: | Regular tickets $55/mom; VIP tickets $70/mom. MetroMoms Insiders receive $5 discount. |
| RSVP: | Space is limited. Tickets are not transferable. Last day to cancel for a full refund is January 21 (see Cancellation Policy). |
| Other: | This is a mom's night out; no children will be permitted; no exceptions. |
---